Several studies have correlated low productivity with low sun exposure. UV and visible light from the Sun are very important for a healthy and thriving life.  The Pineal Gland releases Melatonin (N-acetyl-5-methoxytryptamine) when we are exposed to sunlight. Melatonin controls the daily night-day cycle, thereby allowing the entrainment of the circadian rhythms of several biological functions. It is also a powerful free-radical scavenger and wide-spectrum antioxidant and is known to interacts with the immune system as an Antiinflamatory.
What are sunlight exposure effects on productivity?
In an incredibly interesting recent study scientist Mirjam Muench tried to find out about exactly that. They compared two groups of people, one being exposed to daylight, the other to artificial light over the course of several work days. Here is the outcome:
"Compared to the afternoon, people who had DL (Daylight) were significantly more alert at the beginning of the evening, and subjects who were exposed to AL (Artificial light) were significantly sleepier at the end of the evening."
On top of "sleepiness", which most of us could probably deal with is the fact that our cortisol levels drop significantly under artificial or poor lighting conditions. That means that we'll be more stressed, and have less ability to stabilize our energy levels. Here is how a normal cortisol level flow should look like: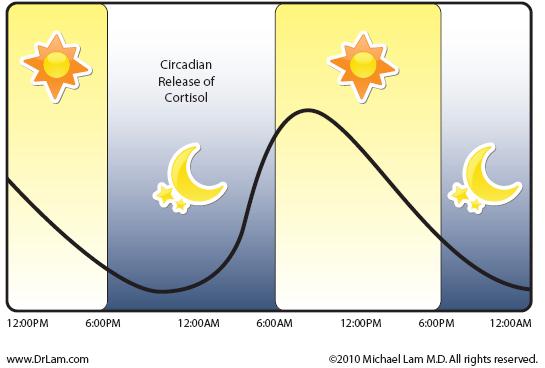 The Heshong study
The Heschong Mahone Group, a professional consulting company, conducted a landmark study on grades and Sunlight exposure in the elementary school classrooms.  The findings are quite conclusive and fascinating to anyone locked into a low to zero Sunlight lifestyle.

Are we all affected by the Sun?
Clearly some cultures have adapted to low to zero Sunlight, like the Inuit, Inupiat and Yupik people of the Arctic region.   However, there have been adaptive evolutionary changes to many aspects of daily life to compensate. It is clear that these cultures are essentially in hibernation mode when there is little to no sunlight for intended periods .