Hello all supporters, 
Again, thanks for your patience and support for our product. We have been tirelessly working to get Violet™ shipped to all our loyal supporters who pre-ordered our device. As a small startup, our team has to work on several aspect of the product and it is not easy doing everything in a short time. We have to secure funds to be able to engineer and test Violet™, we have to work on developing the hardware, firmware, software, mechanical design, user experience, and quality testing. We deliberately left marketing and sales for later to focus on the product. This is why we do not advertise Violet™ yet and we are hoping our backers and community will help us spread the word.
In this post, we wanted to share with you the new progress we have made since the last update. We received a few samples of our new prototype and we are very excited about their design. The front is a beautiful brushed aluminum casing. The back is an elegant black aluminum cover. Here is a the sneak peak of the prototype: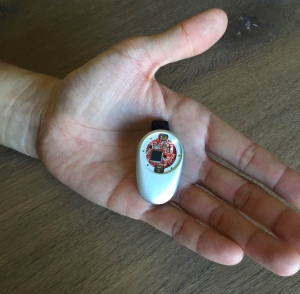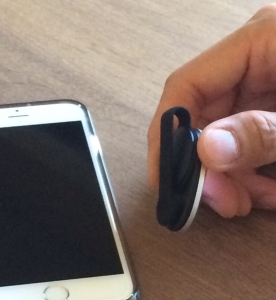 We are getting close to our desired final design in terms of look and feel. The new Violet™ prototype is made with smooth and stylish anodized aluminum (this is similar to the material and manufacturing process of Apple's aluminum MacBook casing), and the accessory clip is made with Nylon. We are working hard to adjust some of the details to make it look as good as possible when you finally receive it.
You may wonder why in the pictures Violet™ is shown without the electronics faceplate, this is because we are extensively testing different materials for the faceplate of Violet™. What is so challenging about this? The faceplate has to pass UV light to the sensor underneath without any inconsistent UV light filtration. It also has to be dark enough for aesthetic reasons.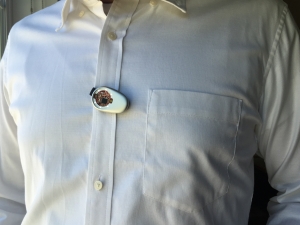 Not only should Violet™ look good on you, but it must be functional too. Our staff is busy using, tweaking, adjusting, and validating the Violet™ firmware and mobile app to make sure you will have the best experience possible. Please stay tuned for the next update!
Follow the development
For more updates, follow us on Facebook, Twitter, and Google +
Contact information
Please send us your questions at violet@liveultrahealthy.com