It has been a while since we published an update on Violet™. The main reason is that we were busy working on the product development and on other tasks in parallel.
Hardware
We went through several versions of the Violet development board to test the electronics, the sensors, and the firmware. We just received the final version of the product board and we will use it for controlled testing of the algorithm and to demo at trade shows.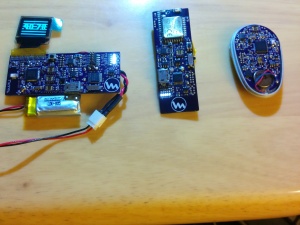 The new boards we just received are being flashed with firmware and tested. The final board design is working and we are now tweaking and adjusting it to improve the overall quality of the product.
Software 
Our iOS app is almost complete. We are working on the UX/UI as well as the Android app. We had some Bluetooth communication issues that took us a while to fix. We are still trying to improve the range and stability of the radio signal.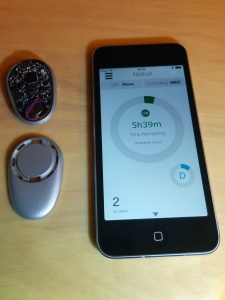 We are testing and tweaking our algorithms for precision and special cases. In January we will start a round of beta testing with data collection and analysis to validate the whole system.
We implemented the server side of our software and tested data logging in the cloud. The data will be encrypted and private.
Industrial Design
Our industrial design department has been busy fitting the electronics inside the casing.
Pradenan, our talented industrial designer managed to use brushed aluminum to make Violet™ more elegant. We have been working with him to make sure the Bluetooth signal is not weakened by the metallic case.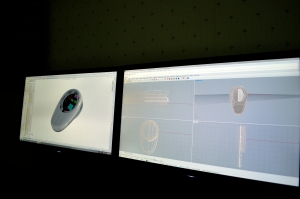 Patents
We already filed one patent to secure the IP for our algorithms and the system and we are currently filing 6 more to cover several cool features we are including in the final product.
We will be at CES 2015
We have also been busy preparing to show a demo of Violet™ at the Consumer Electronics Show in January 2015.
You can find our booth here and our showroom information here
What next?
We have been talking to our local manufacturing facility in the Pacific Northwest and preparing for tooling and giving them all the necessary information to be ready for production.
We will need to test the waterproof rating of Violet™ in the upcoming months after we start production.
Active team
Hardware: Nattapon Chaimanonart
Firmware: Martin Li
iOS/Android app: Nabyl Bennouri
Industrial Design: Pradenan Chaivoraporn
Follow the development
For more updates, follow us on Facebook, Twitter, and Google +